As he celebrates his first anniversary with VariBlast we thought it would be a good time to have a chat with Peter Collyer to see just how joining VariBlast has changed his life and the Company itself.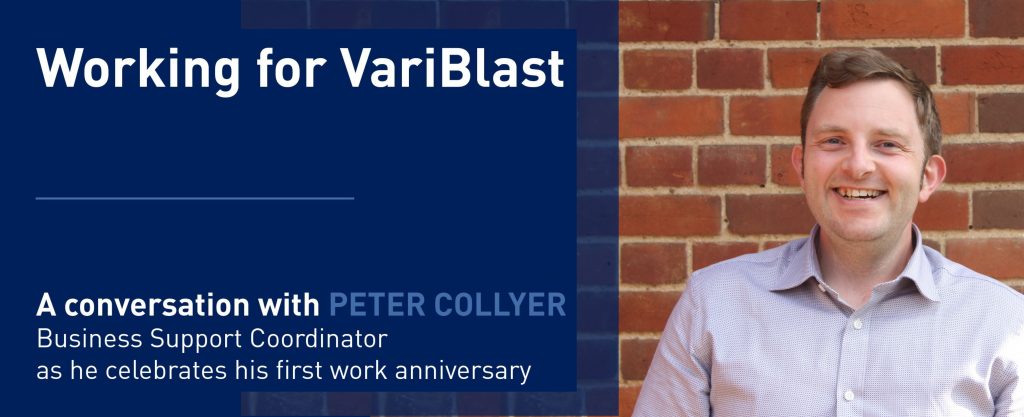 Q: Tell us a little about yourself?
A: After gaining an engineering degree at Newcastle University I spent six years in the automotive industry. Then I found my way into working for a fire protection specialist. I was able to use my experience in QA and spreadsheet software, gaining eight years' experience in paint application and composite panel walls.
When the opportunity to grow with VariBlast became apparent, I took the chance to transfer my skills and learn some new ones. The company's specialist expertise in surface preparation, in a rapidly growing refurbishment market, meant that I have become involved in a number of high-profile projects. A year has gone by so quickly that it seems only yesterday I was moving from Leicestershire to Norfolk and introducing myself to some new colleagues.
Q: What has been your biggest challenge over the past year?
A: The most challenging aspect of the past year has been working towards the accreditations we need to grow the business for the future. This will enable us to take on more major projects such as the one we are working on now in the City of London. This enabled us to complete CHAS and ConstructionLine Profiles in such a way as to demonstrate that the inbuilt ethos of VariBlast in terms of Health and Safety, Quality Control, and company ethics satisfy the rigorous accreditation parameters.
Q: What was your biggest achievement over the past year?
A: Having worked with ISO Accredited companies throughout my working life one of my main tasks over the past year was to get VariBlast ISO 9001 and 14001 accredited. Early on I recognised that the systems already in place needed only a few nudges in the right direction to achieve these vital milestones for the business. Over the next couple of months we will go through the renewal process that will cement out systems into our day-to-day working practice.
Q: What are you looking forward to over the next year or so?
A: I am looking forward to supporting the company in its continued growth in the surface preparation sector and adding my experience in Intumescent Paint application to our Portfolio.